What does a doula do…and why should I hire one? Doulas... give your partner the tools to provide you with better support Doulas... are always on your side... supporting you without judgement. Your body... your birth... Your way. Doulas... are experts on the physical and emotional aspects of giving birth. ...your doula can help you have a faster, more comfortable birth. Doulas... work for you and your partner. You always have your doula's undivided attention.
Being pregnant is strange and new and full of surprises – even for people who have been there done that. Not only is pregnancy weird, but pregnant people get bombarded on all sides with all types of advice. "Do this!" "Don't do that!" "Do it my way!" "Do it the way my mom did!" "My sister's college roommate's uncle said that his wife…" And at least one person will say "OH! You're PREGNANT! Let me tell you how HORRIBLE birth was!" So how do you sift through all this noise? How do you find the information that is actually going to be helpful on your journey through pregnancy and birth? By finding the right doula!
The dictionary definition of a doula is a Greek word meaning "woman's servant". Nowadays we use that word to describe a trained labor support professional. In the simplest terms, doulas give birthing families support. Emotional, physical and informational support before, during, and after their birth.
Okay, I hear you saying, sounds GREAT! But what does that translate to in practice? What does a doula do?
If you hire us as a part of your birth support team, this is what you can expect:
This is how we are different from the big group doula practices!
Before your birth…
A free get-to-know-you chat that helps us decide if we are a good fit.
Private pre-birth meetings to help you feel confident and informed about the choices you have as a birthing family. These sessions last anywhere from 1-2 hours and help you to envision what is most important to you about your birth and fill your birth partner's toolbox with comfort measures, breathing techniques and other insider tips for an easier, faster, more confident birth.
Community Prenatal Meetings held twice monthly at a central location. You are welcome to attend as many of these meetings as you like to talk with your doulas, meet other expecting families in the area, ask questions, or get support.
A partner who feels more confident, more able to help and more excited to be on the labor train with you.
Referrals to other helpful birth and baby professionals if needed, and unbiased resources for information on topics relevant to your life and family.
Anytime support via email or phone from the moment we sign a contract until your baby is 6 weeks old.
During and after your birth…
100%, one-on-one attention during your birth.
Help answering the epic question every birth partner (and laboring mama!) has – "When do we go to the hospital??"
Suggestions for managing the intensity of labor with natural pain coping techniques such as breathing, massage, touch, movement, and vocalization.
Help in deciding if and/or when medical pain-management is right for you.
Suggestions for how to help kick a slow-to-start labor into high gear.
Suggestions and tools to get the information you need from your care providers so you can make an informed decision at every stage of your pregnancy and labor.
1-2 hours of immediate postpartum support, including help getting your brand-spankin' new baby to latch on and start nursing, if that's what you want.
One postpartum visit to help get your family off on the right foot with feeding, sleep, and figuring out when you can actually get a shower and eat.
And while we are talking about what good pregnancy care is all about, why don't you check out our area's wonderful hospital based midwives?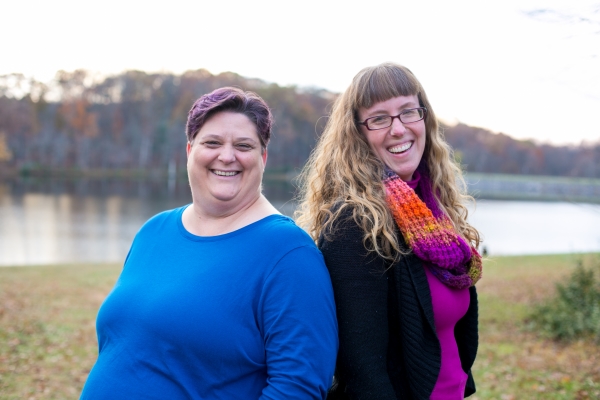 Myths and fables and half truths, Oh my!
Let's face it. Birth is weird. And everyone – from you mom to your doctor to your college roommate – has something to tell you about it. They all know what will happen, what has to happen or what can't ever in a million years happen. But the fact is, a lot of that stuff they tell you is a myth, based on nothing more than tradition or provider preference. In this quick little guide, you'll get an evidence-based

overview of 10 common myths about labor and birth. Get a free copy for

requesting a consult!
What questions should I ask a doula before I hire her?
When you first find out you are pregnant, there are so many questions that you have never had to consider before. Is it a boy or a girl? Are we going to co-sleep? Should I see an OB or a midwife? Should I cloth diaper or use disposables? Am I allowed to eat sushi while pregnant? Can I drink alcohol? What is the best pregnancy book? The list goes on and on! Then, in the last few years, everyone is asking "Should I hire a doula?" and "What questions should I ask a doula before I hire her?"
My answer the the first one is "Yes! Of course you should hire some type of labor support!" No matter what kind of birth you are planning… medicated, natural, hospital, c-section, home, squatting in the woods with a baby deer and butterflies braiding flowers into your hair… a child birth coach is there to give you unconditional support throughout your pregnancy and birth. Your choice of birth team location can DRAMATICALLY effect your birth, so be choosy!
As far as the questions to as a doula in an interview, here are my suggestions:
1)Why did you decide to start supporting birthing families?
2) What do you like best about being a childbirth support person?
3) I want to have a (insert type of birth you are hoping for here) birth. How do you feel about supporting this kind birth plan?
4) Have you ever worked with my care provider?
5) (Ask this question of yourself, after she leaves): Did I like this doula? Do I feel comfortable with her? Did my partner like her?
This last question is the MOST IMPORTANT ONE. It is not how many births she has attended, and not her training, certifications, and expertise. All those things are valid questions, and by all means ask them if you like. But the best-qualified doula on paper may not be the best doula for YOU.
So really ask yourself: Do you LIKE her? Do you feel comfortable talking to her? Did she make you feel good about yourself and your upcoming birth and your birth preferences? Our very favorite interviews are the ones where we asked barely had time to ask questions. Why? Because we spent the time chatting and enjoying each other's company!
We are ready to answer your questions!
Are you looking for YOUR
doula in Silver Spring?
Finding your perfect doula is a personal journey. What sets Silver Spring Doula apart from the crowd is professionalism, compassion. We have an unwavering dedication to helping you craft your own best birth – as YOU define it. We am independent, DONA and Stillbirthday certified birth doulas serving all areas of the Greater Metro DC Area. Your baby's Birth Day is a day that you will remember for the rest of your life. Let us help your family make beautiful memories! We have provided birth coach, childbirth education, and placenta services to over 200 families in the Maryland Suburbs, Washington, DC and Northern Virginia.